Funnily enough, the world of animation does not revolve solely around animators – in fact, there is a whole slough of other artists needed to help bring animated videos to life. Illustrators and concept artists, for example.
Mary Blair, née Brown Robinson, was one such behind-the-scenes V.I.P.s of Western animation. In an industry dominated by men (in fact, both her husband and brother-in-law were animators), Mary rose through the ranks and made her mark in art and animation – one that is still appreciated today.
Showing artistic promise from a young age, Mary later studied illustration at the renowned Chouinard Art Institute (now CalArts) in L.A., where she met her husband, Lee Blair. Beginning her artistic career as a daringly original watercolour artist, Mary first set foot in the world of animation in 1933, working with her husband for Ub Iwerk's animation studio.
After some time, Lee left to go and work for Walt Disney's animation studio and, in 1940, Mary followed suit. Here she started out creating concept art for films such as "Lady and the Tramp",  "Dumbo", and an unreleased segment of "Fantasia". Her eye-popping work for these films soon caught the eye of Disney himself, who was impressed by her use and understanding of colour and movement.
In the early 1940s, Disney's studio was all but forced to shut down animation production, due to World War II. In order to stay afloat, Disney took on a number of small package animations instead. As part of the FDR's "Good Neighbour" programme Disney, his wife, and his animators – including Mary – travelled to various South American countries. It was during this trip that Blair created numerous watercolour paintings that eventually led to the development of two of said package animations: "Saludos Amigos" (1942) and "The Three Caballeros" (1944).
These short animations, not to mention Disney's fondness for her work, allowed Mary to experiment and develop her style and following suit from her work on the aforementioned South American animations, Mary created art for "Make Mine Music, Melody Time", and "The Adventures of Ichabod and Mr. Toad", which are considered to be some of her most reminiscent and stunning works within the animation industry.
Enamoured by her distinctive style – filled with strong patterns and explosions of colour – Disney decided that Mary would be the best choice to work on the production of their newest feature-length animation: "Cinderella". She redesigned the aesthetic of the film and the looks of the characters in her own distinctive style, even creating a dream sequence that could match the pink elephants scene in "Dumbo". Unfortunately, her crisp patterns and characters for the animated film were scrapped in favour of the more rounded, realistic designs based off of the reference actors. Nevertheless, her colours and the whimsical nature of her environments remained in the animation.

Often described as "innocent" and "childlike", the bright, elegant surrealism of Blair's designs really come to light in her work on "Alice in Wonderland", with her carefully blended colour palette bringing Lewis Carroll's fanciful world to life in the animated film. Even though less of her influence is seen in "Peter Pan", Tinkerbell, Skull Rock and Mermaid Lagoon are all of her design.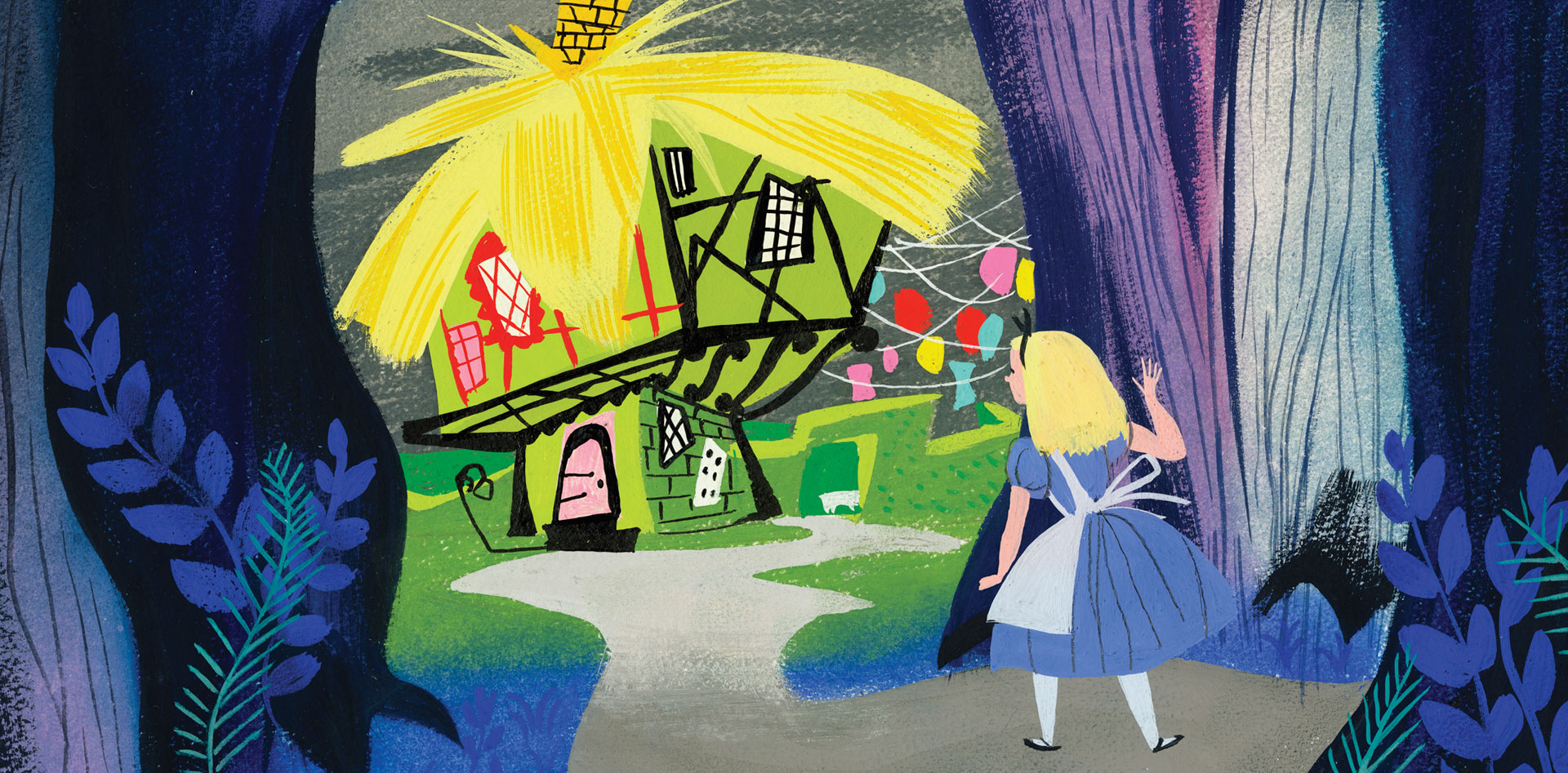 Eventually leaving the animation industry, Blair continued her artwork as a children's book illustrator, working on her "Little Golden Books" series, inspired by Disney's works, and later being called upon again by Disney to design the "It's a Small World" pavillion for the World's Fair, New York in 1964, as well as designing two murals for Tomorrowland.
In spite of her death, in 1978, Blair's work has continued to be of influence, and in 1991 she was posthumously awarded the title of Disney Legend. 
Quote & Meeting Requests
If you wish to schedule a meeting with one of our producers or to request a quote for a custom animation, please follow this link.
---